Online Programme for Business Owners
Are you are business owner feeling overwhelmed with stress?
Are you constantly on the go juggling both business and your life commitments ?
Maybe you have worries, fears or limiting beliefs that are blocking you from moving forward with your business.
Don't despair, I can help YOU to find inner harmony again.
I am offering you a 5 session programme by zoom.
Click on this text to start editing, and enter your own text with some basic formatting. To create a link to another page or website within this section, select the text you want to make into a link and click on the Link icon on the formatting toolbar. Click anywhere outside the text box when you're done to continue working on the rest of your page.
To change the appearance of a block, such as the way in which it is laid out and the width of its columns, click on the Change Layout button on the block toolbar, to the right of each block. You can show and hide many of the elements that make up a block by clicking Block Settings on the right hand toolbar and going to the Elements tab. In Block Settings you can also change other aspects of how a block looks, including margins, colours, animations and background images.
You can change the order that blocks appear on your page using the up and down arrow buttons on the right hand toolbar, or you can drag the entire block using your mouse.
The Emotional Freedom Technique (EFT) is a very powerful self help tapping technique. EFT uses self acupressure tapping on certain meridian endpoints on the face and body, whilst using a talk therapy at the same time.
The process may seem a bit weird at first if you are new to EFT. I myself first thought EFT was alittle bit weird when first using it, but soon realised the benefits of this technique. And I am now very passionate about it, as it's a fabulous tool to use.
I am offering you the opportunity to try EFT at a FREE SESSiON.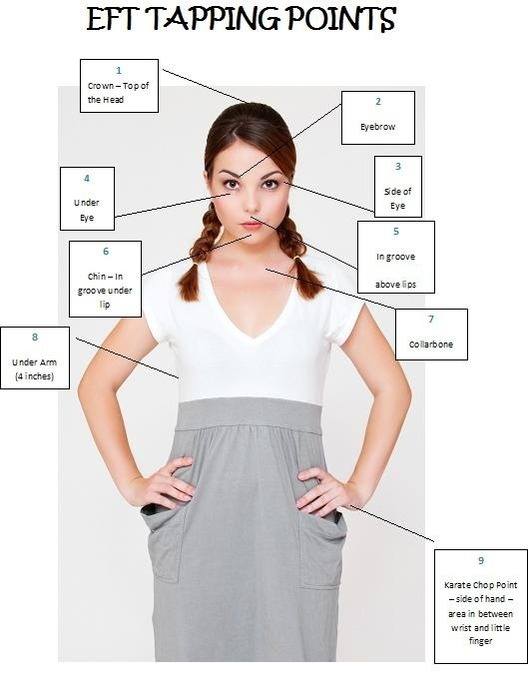 During the programme you will learn self help techniques that you can use as a tool to manage stress and other emotions. You will also receive one to one Stress Management Coaching and treatment for other emotions. Each Session will be tailored to your own personal needs.
I am offering you
A FREE 30 Minute Telephone Consultation, to find out how this programme could benefit YOU.
THEN your 1st Session is FREE (lasting up to 75 mins)
During this session, I will teach you how to recognize stress, the different types of stress and why it is so important to manage stress. I will introduce you to technique called Emotional Freedom Technique (EFT) You will be able to try EFT before booking any further programme sessions. At the end of this free session, you will have learnt the very basics of EFT and you could use it as self help tool.
If you wish to continue with the programme, I will use my skills to help you manage and release psychological and emotional issues. We will work on your identified stress issues, fears and worries, unhelpful beliefs, and other emotions and feelings relating to your business and work/life balance. During the programme I will use a combination of EFT, Stress Management Techniques, Relaxation Techniques, NLP and Visualization.
Session Two
During this session I will teach you two stress management techniques. We will also use EFT tapping to work on your issues.
Session Three
During this session will use EFT tapping to work on any fears and other emotions.
Session Four
During this session we will use EFT tapping to work on any limiting/unhelpful beliefs that you have
Session Five
During this session we will devise a plan of action. You will learn tips on how to apply the techniques you have learnt from the programme.
There is no obligation to complete the full programme if you do not wish to. You may prefer to just complete one or two sessions. I will tailor the sessions to your needs and requirements.
To arrange your FREE 30 minute telephone consultation, contact me by completing the form below
Please complete the form below and click the Send button to get in touch with us
We respect your data and follow GPDR law. Please read our privacy policy.
Thank you for submitting the contact form.