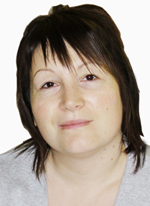 SUZANNE GARDNER-CUTHBERT, GQHP
I am a Complementary Therapist, I Specialise in Stress Management and EFT Tapping. I am also trained in Hypnosis, Hypnobirthing and NLP.

MY STORY
I first became interested in Complementary Therapies, when suffering with an anxiety disorder, around 20 years ago. I began to read all that I could on different subjects such as nutrition, aromatherapy, herbs, exercise and mind management techniques. After overcoming anxiety, I was left with a keen interest in Complementary Therapies.
I decided that for the birth of my third child in 2005, that I would like to have my son at home instead of hospital as I wanted a more natural birth.
Learning all that I could about natural birth, is when I discovered the benefits of relaxation, visualisation and hypnosis. Some time after the birth of my son I began training in Complementary Therapies.
TRAINING
At the beginning of 2007, I began training in Complementary Therapies, first training in Clinical Hypnotherapy, and over the years, I have achieved the following qualifications
Diploma - Hypnotherapy and Psychotherapy
Diploma - NLP (Neuro Linguistic Programming)
EFT (Emotional Freedom Technique) Certificate
Certificate of Competence in Stress Managment
Certified Hypnotic Birthing Practitioner Qualification (CHBP)
CLINICS
At the end of 2007, I formed the business Modern Day Holistic Therapies, based in Brough, East Yorkshire, later changing the name to Suzanne Gardner-Cuthbert Hypnotherapy. At the moment I am offering an online service.
PROFESSIONAL MEMBERSHIP
I am registered with the GHR (General Hypnotherapy Register) and as an easibirthing® Practitioner.